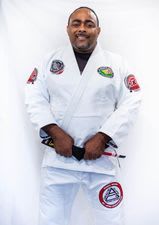 RICARDO TUBBS, Black Belt 2nd Degree
Ricardo M. Tubbs, the founder of Da Firma Training Center and Da Firma Kimono Company, is a highly regarded martial arts instructor and strategist renowned for his highly technical approach to Brazilian jiu-jitsu.
Before starting his jiu-jitsu journey, Ricardo served as a prior-enlisted sailor. He retired as a Lieutenant Commander with numerous deployments to Afghanistan, Central and South America, Africa, and Asia. During his military career, Ricardo was a sought-after service member who served with joint operations, marines, and special operations commands.
In addition to his military service, Ricardo holds a master's degree in public health and is pursuing his doctorate in Naprapathic Medicine.
Ricardo's exceptional skills and experience have earned him many accolades, including being the fourth American to be awarded a black belt by Master Ricardo Cavalcanti, a highly respected jiu-jitsu master.
As an instructor, Ricardo focuses on providing his students with the highest level of technical instruction. He is a skilled strategist and is highly sought after by jiu-jitsu competitors for his sports expertise.
Furthermore, Ricardo is a dedicated advocate for wounded veterans, regularly organizing and participating in events to support veterans and their families.
Under Ricardo's guidance, students at Da Firma Training Center receive world-class instruction in a supportive and challenging environment. His approach emphasizes technique and strategy, allowing students to master the fundamental concepts of jiu-jitsu while developing their styles.
With his deep understanding of jiu-jitsu and his commitment to excellence and military veterans, Ricardo is dedicated to providing his students with the tools they need to reach their full potential. Whether a beginner or an experienced practitioner, Ricardo's instruction will help you take your jiu-jitsu to the next level.
Join Professor Ricardo and the experienced instructors at Da Firma Training Center, and experience the highest level of technical instruction and strategic coaching available. Come train with us, and take your jiu-jitsu skills to the next level.